Uber Booking Fees
To have a clear understanding of the "booking fee" charged by Uber, let's have a small understanding of the Uber charges.
When you get charged for using Uber services, you will notice in the receipt some charges including fare rate, service and safe ride fees.
Fare Estimator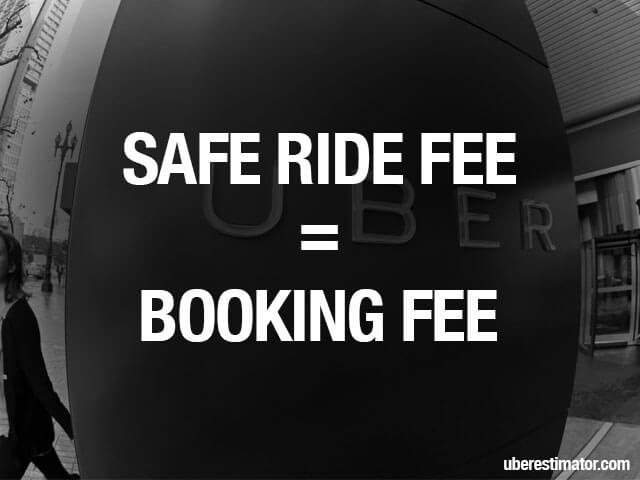 The "fare estimator" button once you click it, you enter the destination.
It will then automatically calculate an estimate as follows; the base fare which is a flat fee charged, a cost per minute while you are inside the ride, cost per mile and a booking fee for all US supported cities.
Safe Rides Fee
The safe rides fee or what is now called booking fee is not included in UberBlack.
On your UberX ride receipt, you will notice the fee.
This covers the cost of everything that is associated with giving the rider a safe trip to the destination.
It includes insurance, support & background checks.
The Uber booking fee or safe rides fee used to cost only $1 regardless of where you were riding.
However this is recently charging and the fee will depend on your ZIP code.
It cost almost twice as much in regards to safe rides in places like South California and Detroit than in Las Vegas, Reno and Chicago.
Many people misunderstand this booking fee, since it's not tips for the driver but for Uber.
If you want to tip the Uber driver feel free to do it by cash only.
This "safe rides fees" caused a lot of controversy among Uber riders as they had concerns about the purpose of the fee.
Uber lost the case in court and now has to pay off uber riders some $28.5 million dollars.
This is to about 25 million riders who used Uber between 1st January 2013 to 31st January 2016.
Uber lost the case because they were not honest about the intensity of their driver screening process.
The reason for changing its name from "safe rides fee" to "booking fee" was part of the court settlement.
This new $1 booking fee will now cover the safety of the ride and also future operational costs we have discussed above.
Remember, if you're really in doubt about your receipt, you can always contact uber customer service phone and explain your case.