Uber Booking Fee
Uber charges booking fees to all customers for each ride. These fees can be either fixed or variable. They're meant to help Uber pay for things like maintaining their service, providing insurance, and handling payment card fees.
It's important to note that the booking fee is not the same as the service fee. The service fee depends on factors like the upfront fee, the driver's rate, and whether there's a surge in demand.
The booking fee is already included in the price you see in the app before you ask for a ride. If you want to know how much the booking fee is for a specific trip in your city, you can get an estimate with detailed information.
Safe Rides Fee
In 2014, Uber introduced a "safe rides" fee of $1 per ride, claiming it was for safety measures like driver screening. But this fee wasn't actually for safety – it was a tactic by Uber to make more money. They made around $500 million from this misleading charge.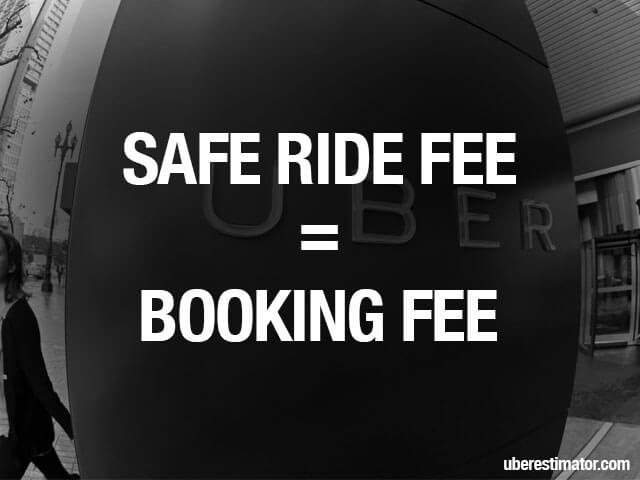 In 2016, Uber faced lawsuits alleging they falsely promoted their safety record. They settled these lawsuits for $28.5 million and changed the fee's name from "safe ride fee" to "booking fee".
Today, every Uber passenger still pays the booking fee, which differs based on where you are and how far you're traveling.
How to pay for the Uber ride?
You have various options for paying an Uber ride: credit/debit cards, Google/Apple Pay, PayPal, Venmo, vouchers, Uber Gift Cards, or cash.
Select payment method when booking. Add to Uber Cash balance, or add new payment through app menu's Payment option.
Add payment manually or by scanning card using device camera. Link Google Pay/PayPal to Uber account. Uber's cashless; payment charged after ride.
If you wish to tip the Uber driver, you can use the tip option in the app or provide cash if the driver accepts it.
Can I avoid paying the booking fee?
No, the booking fee is required for all rides and cannot be removed or reimbursed. Yet, you can spend less by opting for UberPOOL, the budget-friendly ride-sharing option.
Does the booking fee apply to Uber Reserve?
No, the booking fee doesn't affect Uber Reserve. Uber Reserve is a premium service letting you schedule a ride up to 30 days ahead, with an upfront fare.