Uber FAQ: How to Use Uber?
We are receiving a lot of questions about our Uber services.
Instead of replying to you by e-mail, we have created this page with the most frequently asked questions.
In case you have questions please contact Uber customer service by phone or online help desk.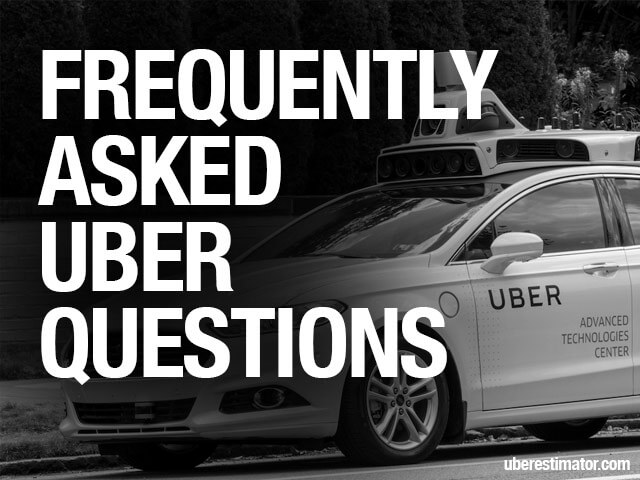 Are Uber Drivers Safe?
Uber has a policy of keeping everyone who is part of a trip, including the driver, safe.
The measures that are kept in place have been divided into three; before, during, and after the trip.
Before the Trip
Uber requires its drivers to ensure that they do not pick up anonymous riders.
To avoid this, they should only pick riders who have an account with Uber.
This way, the company has all the necessary information relating to the rider.
Secondly, Uber keeps the information of both the rider and the driver anonymous.
During the Trip
The Uber app has inbuilt navigation capabilities that offer directions to help the driver arrive safely.
Secondly, the app ensures that the driver is logged into the GPS at all times.
This ensures that Uber can track him or her at all times.
After the Trip
The first provision here is that the app helps charge or issue credit to the rider after the trip.
This way, there are no delays involved while looking for change.
Secondly, each driver is required to rate the rider after each trip.
This helps keep tabs on either good or bad riders. Lastly, Uber drivers have access to support from the company 24/7.
Are Uber Drivers Employees?
This question has been revolving now for many decades that when a person extending its services for a company can be considered as its employee? The answer is still unsolved, as many people have different views regarding this topic.
The law for employees differs from country-to-country or rather state-to-state. For the same services, you could be considered as an employee in one state and could be considered just as a contractor in the other.
Because giving you a title of an employee not only provides you with better wages but also adds on the special benefits that the company is extending to all of its employees such as, social security, paid sick days, gas, car, maintenance and much more.
Providing these facilities is surely going to alter the budget of the company.
This is the reason for companies to be comfortable with the work done on the contract basis rather than hiring employees for the same.
The story of the Uber drivers is also no different.
They were hired as contractors rather than employees from the starting of this service.
In October 2016 a court in London awarded them with the label of an employee.
This is a historic decision and a lesson for many countries, searching for the answer for the same question.
The Uber drivers in London and the U.S. are considered as employees now and all benefits of an employee are provided to them.
But still, in many countries the title for them is different according to their respective laws.
Are Uber Drivers Insured?
Uber as a technology company facilitates the relationship between a taxi driver and a client user.
And if this is the only thing that they do, then they should not incur much liability.
Therefore, much of the liability is upon the drivers who are driving their own cars and use their own car insurance.
However, personal car insurance does not cover drivers if they are driving for Uber or any other ride sharing app.
This is because personal insurance does not cover a personal vehicle during commercial activities.
Uber insurance will cover a driver when he is involved in an accident when their Uber app is on and they have a passenger.
But this insurance does not apply to when a driver has an Uber app on and no passenger.
Even when as a driver, you hit a car as you check the app for directions to meeting a client, Uber insurance won't cover you.
For now, to protect yourself as a driver, you can buy commercial auto insurance or reach your insurance provider to find out how they deal with TNC drivers' claims.
How Uber Makes Money
Uber drivers and riders need to download, install and register the Uber platform application on their mobile phones before using it.
After installation of the Uber application, the rider places a request to the Uber platform via the mobile application anytime they need a ride.
Uber Technologies then broadcasts the riders request to all Uber drivers around the cities, and if any of the Uber drivers is interested in delivering the ride they accept the riders request.
Then the Uber app delivers the riders details to the Uber driver, at this point, the driver proceeds to the location of the rider, then picks the rider and delivers them to their destination.
After the rider has reached their final destination Uber charges the riders automatically from their credit cards.
Finally, after the payment has been made Uber Technologies deducts a 20% commission on every ride that the drivers make.
The commission can be more or less than 20% depending on the city and competition in the same city.
The Uber drivers are paid the remaining percentage after the commission has been deducted, and this is how both the Uber Technologies and the Uber drivers earn and make their money.
When Uber Pays Drivers
Uber pays its drivers on a weekly basis via direct deposits to their bank accounts.
The payment time is from Monday 4 am to the next Monday 4 am.
The payment from Uber usually reflects on their accounts by Thursday evening.
When Uber pays drivers it sends them detailed payment statements on Tuesdays and latest by Wednesdays.
The payments include fares, bonuses and promotions.
The direct deposit payment clears by Thursday but under some occasions it can go up to Friday.
Uber ensures that the drivers are paid at the agreed time to increase the confidence of the drivers to their service.
How uberPOOL Works
UberPOOL is the latest and cheapest way of car riding with Uber company.
It offers a ride-sharing option that matches you with other riders coming from the same area, heading to the same direction, at the same time.
With uberPOOL, a rider will be able to share a ride and save up to 40% of the initial cost.
It's quite a simple step by step process for both riders and drivers.
For Riders
It's quite an easy process. They begin by requesting an uberPOOL, set up a pick up location and destination.
Then confirm the quoted fare prices.
After accepting the charges the app matches other riders heading to the same location hence should not be shocked when a rider they don't know is being picked up.
Once the riders have arrived at their respective destinations they hop out of the car and pay the guaranteed fare which saves up to 40% of the initial fare cost.
At the end of the trip Uber riders have the option of rating the Uber driver depending on the way they felt the trip.
For Drivers
It's quite a complex but understandable process.
It begins by accepting an uberPOOL request and driving to the first pick up location.
Once the first rider has been picked up the driver can begin the trip.
During the trip another uberPOOL request can be alerted and Uber drivers have the option of accepting it depending on the destination.
In the case they do, they head to the second pick up location and pick up another client.
After picking up the second rider they can begin another trip and start driving both clients to their respective locations.
During drop offs, a rider is dropped off depending on which destination is closer.
Payments are collected at the end of both trips.
Finally, the uber driver can rate the riders.
Are Uber and Lyft the Same Company?
Uber and Lyft are different individual ride-sharing companies.
The two companies have their roots in San Francisco.
Uber was founded in 2009 while Lyft was founded in 2012.
The two transportation firms are the leading service providers in their respective industry however Uber is larger.
Although Lyft is the latter in the market, it is one of the biggest competitors Uber has ever met.
Uber has strong investors like Google Ventures and Baidu who make the firm first choice search in ride sharing results.
While Lyft has investors like Carl Icahn and Alibaba, Rakuten, k9 ventures and Mayfield fund.
In terms of raw resources and geographical coverage Uber has the upper hand.
Uber also has more pricing options available including the low price UberX and the high-end UberLUX.
They also have vehicles ranging from regular taxis, classy sedans and spacious SUVs.
This is what makes Uber the first choice of people because it is the cheaper option.
Uber is found in more than five hundred cities worldwide while Lyft has its services in sixty or more cities.
Interestingly enough both companies give sign-up incentives competitively for drivers who switch over from each other.
Are Uber Drivers Happy?
As Uber continues to employ more drivers due to their tremendous growth, more are becoming concerned with the overall satisfaction of Uber drivers.
At first, potential workers love the fact that there's time flexibility since there are no prescribed hours that an Uber driver must work.
However, there are some drawbacks that are making Uber drivers unhappy, especially those who rely on this as a full-time gig.
First, Uber treats their drivers as contracted workers which means that they don't get any benefits that one would find at other businesses.
It is important to note that Uber takes 20-25% of the driver's fare.
Drivers also have to consider their weekly expenditures on gas, possible maintenance and/or repair on their car.
Therefore, while it may be a quick way to start earning money, many drivers are starting to notice that it is definitely not reasonable as a full-time job.
Moreover, Uber drivers are currently upset with the recent cut in fares in over 100 American cities.
That being said, it was reported that the average Uber driver made $40,000 US in one year.
Those who are looking to make extra money on the side will see this an excellent option to increase income.
All things considered, Uber drivers are not totally satisfied with the company, but not to the point where they want to finally call it quits.
What Uber Class is my Car
Uber services are now so popular that you can find them everywhere across the US.
Many of us are not aware of the different classes offered by them.
Primarily, there are five types of services offered and the cars qualified for each of the services also varies respectively.
UberX
It is the most inexpensive form of service offered, there is a capacity of four passengers excluding the driver and the year of the manufacture should be 2001 or newer.
UberXL
Slightly bigger than UberX, these cars can be SUV's like Chevrolet Suburban, Infinity X56, Lexus LX and also minivans, pricing for this service is slightly higher.
Year of manufacture is the same as UberX.
UberSelect
Another name of this service is "UberPlus".
This service is for the ones who want to enjoy a luxurious experience in the big brand of cars like Audi A8, BMW 7 series, Jaguar XJ, Tesla model S, Porsche Panamera etc.
UberBlack
Cars like luxurious Sedan or black SUV are eligible for luxurious, lavish and fancy services offered by Uber, Few approved cars are Mercedes-Benz, Cadillac XTS, Audi A6 and A7, BMW 5 series, Jaguar XF etc.
Where Uber is Banned
The countries where Uber is banned? Despite its success and fast rise, it has faced many challenges by governments and even companies that own taxis.
In some parts of the world some countries have banned it.
Below are some countries where Uber has been banned.
Thailand, due to concerns that were brought up by taxi drivers, the head of the country's Department of Land Transport declared Uber illegal. He stated that the methods used by Uber drivers to charge was invalid and added that Thai Uber drivers were improperly licensed.
In Taiwan, major fines were faced by Uber Taiwan for operating illegally. Other issues included failure to insure vehicles and operating the business without license. However, plans are underway to revive it again.
South Korea, it was banned in 2014 because of a law in South Korea which outlaws paying transport services which use private vehicles that are not registered.
Romania, its parliament passed a law that prohibited transport services by unauthorized drivers, this ultimately made Uber illegal.
Portugal, after a massive protest by taxi drivers and associations in major cities, the government banned the operations of Uber in the country.
In Poland, Uber drivers in this country work illegally and any driver caught is fined about 5000 PLN.
Other places where Uber operations have been banned include Frankfurt in Germany, Philadelphia and Texas in the United States.